Training
Here is a list of upcoming training seminars. If you have a special request not listed below. Please email dave@cleanprosupply.com to share your suggestions and special requests. Our goal is to provide the best possible education, support, and supplies you need to succeed!
Space is limited, please call 585-426-9507 or scroll down to see links to register online and reserve your seat today!
Local hotel suggestions include:
#1 - Fairfield Inn & Suites by Marriott Rochester West/Greece
400 Paddy Creek Cir
Rochester, NY 14615
(585) 621-6050
Hotel Website - 3 Star Hotel (Best Ratings)
#2 - Holiday Inn Express Rochester - Greece
1635 W Ridge Rd
Rochester, NY 14615
(585) 663-8400
Hotel Website - 2 Star Hotel (Next Best Ratings)
#3 - Quality Inn Rochester Airport
1273 Chili Ave
Rochester, NY 14624
(585) 464-8800
Hotel Website - 3 Star Hotel
#4 - Radiance Inn and Suites
1956 Lyell Ave
Rochester, NY 14606
(585) 254-1000
Book Online - 2 Star Hotel

-----------------------------------------------------------------------------
Date: September 11-12
8:00am - 4:30pm(ish)
CARPET CLEANING & UPHOLSTERY CLEANING
Instructor: Pat Muller
Cost: $25 per person per day, redeemable for store credit on days of training. (Non-refundable)

All attendees will receive a 15% discount store-wide only on the days they attend. Class ends at 2pm both days, but feel free to stay later for hands on training and equipment demonstrations. Click here to register for one or both days. If attending both days, you will need to add each class to the shopping cart separately before checking out. Please call 585-426-9507 if you have any questions.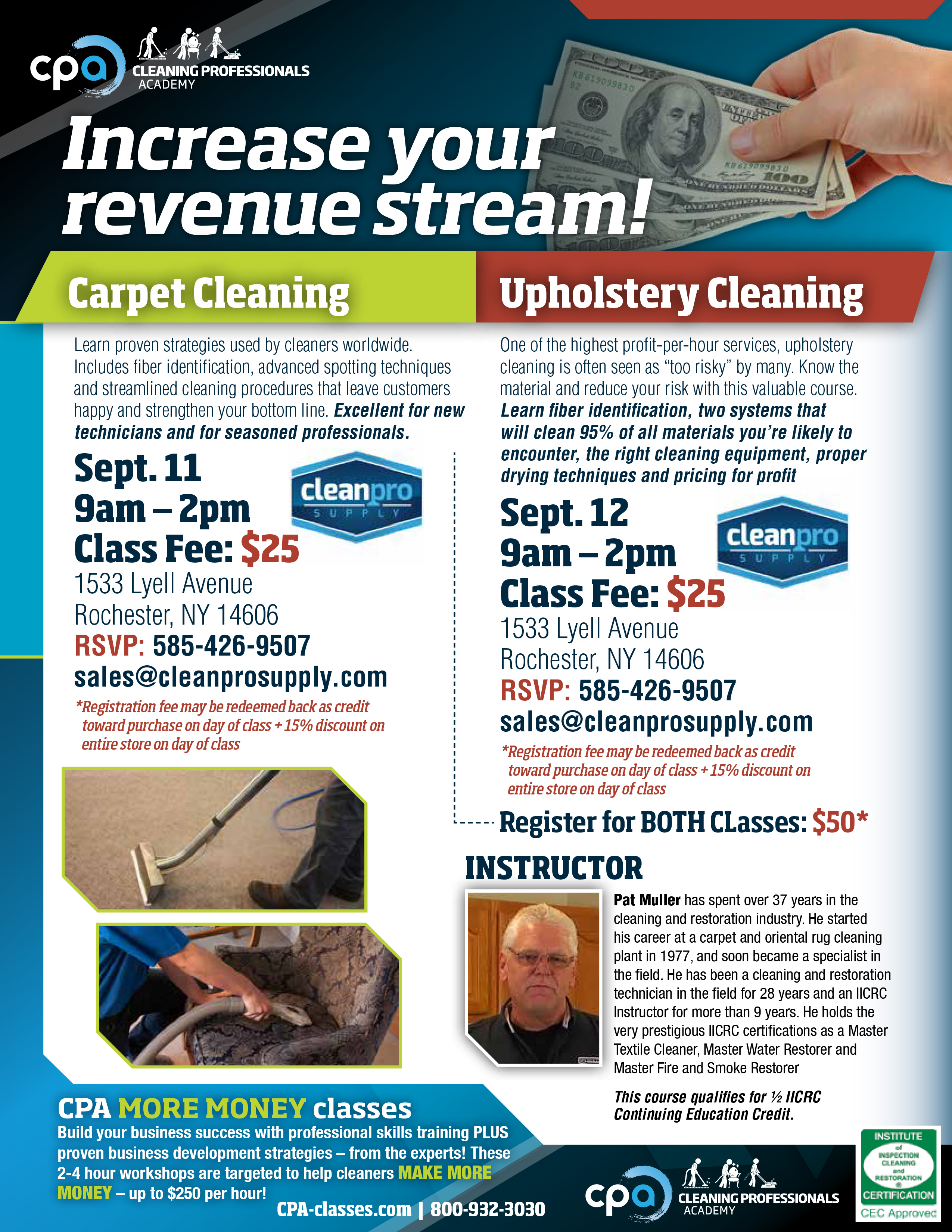 -----------------------------------------------------------------------------
Date: October 1-3, 2018
Time: 8:00am - 5:00pm
WRT - WATER RESTORATION TECHNICIAN
Instructor: Mark Cornelius
Cost: $399 (Non-refundable)
>>>Click Here to REGISTER ONLINE

IICRC Certified & Approved The Water Damage Restoration Technician course is held over three days for training in extraction, basic containment, basic mold procedures, sewage-decontamination, initial equipment set up, and the basics of drying. This course is designed to give restoration personnel who perform remediation work a better concept of water damage, it's effects, and techniques for the drying of structures. You will learn about procedures for handling water damage restoration, from the initial site survey through the final billing.
Qualifies for 2 IICRC CECs. IICRC exam available for additional charge (fee must be paid at the time the test is taken).
Lunch provided.
Key Topics:
Structural Drying
Psychometrics (the key to understanding drying), and
Types of Dehumidifiers and why each is used.
Use of inspection tools (Moisture meters, Thermal cameras, Thermal hygrometer and more)
Inspection procedures and health effects of microbial contamination,
Handling unusual circumstances and the proper application of the theory of dehumidification and the use of air movers will be emphasized.
Mark Cornelius - His career started in the carpet cleaning industry when he was 13 years old and has continued for over 35 years. Mark literally grew up in the restoration industry holding different positions within several companies including VP of one restoration firm where he worked for 11 years. Mark Cornelius is still currently active in the field, founding D.R.I. Inc. in 2001. He currently instructs IICRC approved AMRT, WRT, FSRT, OCT, CCT, HST-EQU - OSHA 10 /30 classes. Mark Cornelius has also written/teaches his own Trauma/Bio hazard cleaning course. Passionate for learning and sharing knowledge he became an IICRC approved instructor in 2007. He was a contract instructor for a large equipment manufacturer traveling the US & Canada. Mark founded EMTA in 2014 authoring all curriculum's/presentations with safety being chapter one. Mark travels internationally and across the USA teaching hundreds of students every year, including many private classes and consulting. Mark has two instructors on staff and adding three more soon. His unique combination of qualifications include IICRC triple master, Volunteer NPQ 1 fire fighter, EMT-I, NPQ-level-1 fire instructor and one of the first in the world holding ANSI accredited IICRC MRS certification as well as participating in the Beta test for the exam. Mark has served on the OCT, FSRT and Trauma TACs as well on BODs including 11 of 13 years with his fire department. Mark holds a blackbelt in Taekwondo. Mark has a daughter, Alexandra and son Devon. Mark and his wife Rashelle have been married for almost 27 years.
-----------------------------------------------------------------------------
Date: TBD
Time:
HARD SURFACE CLEANING, MAINTAINING, & RESTORATION
Instructor: TBD
Cost: $269 per person, redeemable for store credit on days of training. (Non-refundable)
>>>Click Here to REGISTER ONLINE

If you already provide hard surface services, or are looking to add these services to your growing business, come gain some great new knowledge with hands on training with industry expert Debbie Ignacz from Shore Corporation, (AKA ShoreBest). She will start with chemistry basics for Concrete, Masonry, Stone, and Tile & Grout. Then dive deep into detailed information on various terminology, identifying substrates, restoration, educate on sealers versus repellents, interior vs exterior, best practices, do's and don'ts, etc. There will be ample time for questions. PLUS hands on demo with chemicals and equipment.
This training is EXCLUSIVELY offered at our Clean Pro Supply facility in Rochester, NY, focused on education for contractors, and is the first of it's kind. Sign up early, this class will fill fast!
-----------------------------------------------------------------------------
Date: November 7-10, 2018
Time: 9:00am-4:30pm
MB STONE POLISHING "STONE RESTORATION" TRAINING COURSE
Instructor: Stu Rosen
Cost: $1795 (Non-refundable)
>>>Click Here to REGISTER ONLINE

Presenting Maurizio Bertoli's expert approach to stone restoration with MB Stone owner Stu Rosen's twist and advances. Stu Rosen worked with Maurizio for several years, and has been heading up MB's contracting operations for quite some time. Stu runs a successful restoration company and still spends much time working in the field. He will share with you the wisdom he has gained over a career of experience as well as the trade secrets that made Maurizio Bertoli's expert approach to stone care world famous. You will also be provided access to technical support at any time. We'll be here to help you if you need us.

Throughout the days of classes dedicated to teaching students the skills needed to get started, Stu will pass on the passion and wisdom that Maurizio shared with so many. The class provides attendees with an unbiased look into stone restoration equipment, tools, diamonds, polishing compounds and accessories. Additionally, the unparalleled MB line of products will be available for purchase.
Stone restoration is not about following static recipes or blocks of instructions. Stone restoration is about thinking on your feet and applying a broad set of fundamental expertise to solve unexpected or previously unseen problems. That is why we believe in a hands-on learning experience for all of our students. A copy of Maurizio Bertoli's book (the natural stone restoration bible as we refer to it) will be sent out upon enrolling in the core portion of class or any combination of 2 segments. This will give you a great opportunity for some advanced reading. This invaluable resource is included as a part of your tuition. After attending, You will have all access pass to technical support pretty much around the clock. ( Who are we kidding, we'll help you even if you don't come to the class) And remember.....you are welcome to come back for a free refresher. One of the benefits of becoming part of the family!!
-----------------------------------------------------------------------------
Date: May 13-15, 2019
Time: 8:30am-5:00pm
CARPET DYEING CERTIFICATION & RESTORATION
Instructor: Chris Howell
Cost: $650-2000 per person

If you are looking for an edge on the local competition for your business, this may be just the opportunity you are looking for. Chris Howell's carpet and rug dyeing courses are designed to teach you and your business how to develop the dyeing and restoration skills that brought Howell and Colorful Carpets international recognition. This traveling intensive course turns cleaners and restoration professionals into specialists, with the skills that Howell has used in working in the United States White House, Palaces in Dubai, and other prestigious locations around the world. Become a specialist among specialists.
https://www.dyetraining.com/