Training
Here is a list of upcoming training seminars. If you have a special request not listed below. Please email dave@cleanprosupply.com to share your suggestions and special requests. Our goal is to provide the best possible education, support, and supplies you need to succeed!
Space is limited, please call 585-426-9507 or scroll down to see links to register online and reserve your seat today!
Local hotel suggestions include:
#1 - Fairfield Inn & Suites by Marriott Rochester West/Greece
400 Paddy Creek Cir
Rochester, NY 14615
(585) 621-6050
Hotel Website - 3 Star Hotel (Best Ratings)
#2 - Holiday Inn Express Rochester - Greece
1635 W Ridge Rd
Rochester, NY 14615
(585) 663-8400
Hotel Website - 2 Star Hotel (Next Best Ratings)
#3 - Quality Inn Rochester Airport
1273 Chili Ave
Rochester, NY 14624
(585) 464-8800
Hotel Website - 3 Star Hotel
#4 - Radiance Inn and Suites
1956 Lyell Ave
Rochester, NY 14606
(585) 254-1000
Book Online - 2 Star Hotel

-----------------------------------------------------------------------------
Date: May 8-10
8:00am - 4:30pm(ish)
CARPET DYEING CERTIFICATION & RESTORATION
Instructor: Chris Howell
Cost: $650-2000 per person

If you are looking for an edge on the local competition for your business, this may be just the opportunity you are looking for. Chris Howell's carpet and rug dyeing courses are designed to teach you and your business how to develop the dyeing and restoration skills that brought Howell and Colorful Carpets international recognition. This travelling intensive course turns cleaners and restoration professionals into specialists, with the skills that Howell has used in working in the United States White House, Palaces in Dubai, and other prestigious locations around the world. Become a specialist among specialists.
https://www.dyetraining.com/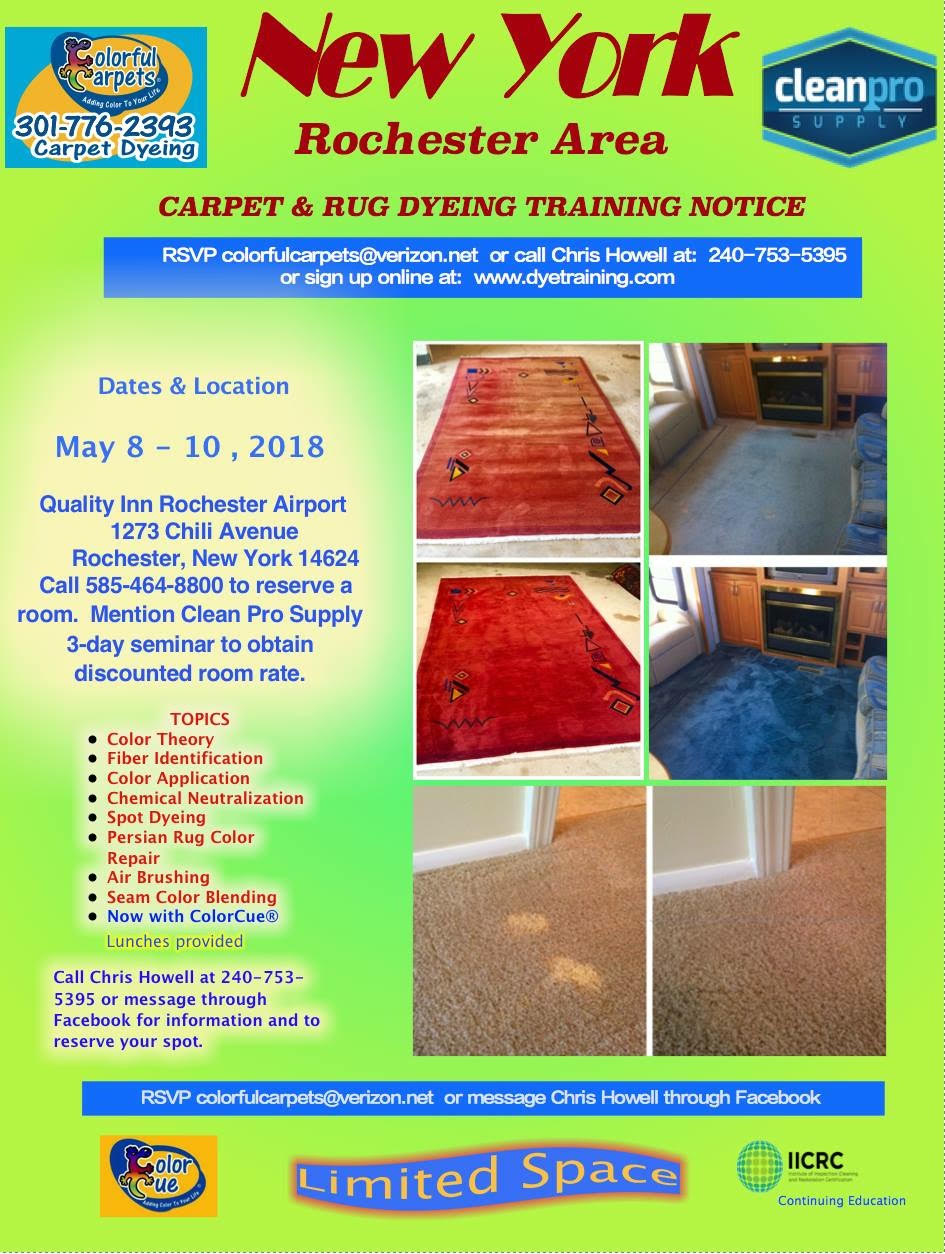 -----------------------------------------------------------------------------
Date: September 11-12
8:00am - 4:30pm(ish)
CARPET CLEANING & UPHOLSTERY CLEANING
Instructor: Pat Muller
Cost: $25 per person per day, redeemable for store credit on days of training. (Non-refundable)

All attendees will receive a 15% discount store-wide only on the days they attend. Class ends at 2pm both days, but feel free to stay later for hands on training and equipment demonstrations. Click here to register for one or both days. If attending both days, you will need to add each class to the shopping cart separately before checking out. Please call 585-426-9507 if you have any questions.